OVERVIEW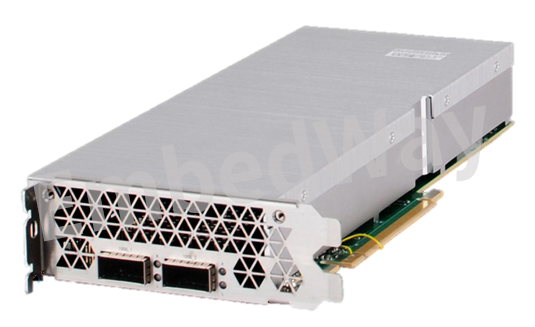 PA8921 FPGA acceleration card is based on Intel Agilex F series FPGA chip and adopts the form of PCIe standard card. It provides customers with an ideal data center application acceleration platform.
Agilex F Series FPGA uses the industry's advanced 10nm process, integrating massive programmable logic resources. It also significantly reduces power consumption, to achieve the best performance and power consumption balance.
PA8921 FPGA acceleration card provides two 100GbE ports to accelerate high-performance passive and inline application deployment. The acceleration card provides developers with complete development interfaces including driver, application programming interface (API) and FPGA interface management. It provides flexible and effective acceleration solutions for load balancing, traffic monitoring, service gateway and other data center services.
DIAGRAM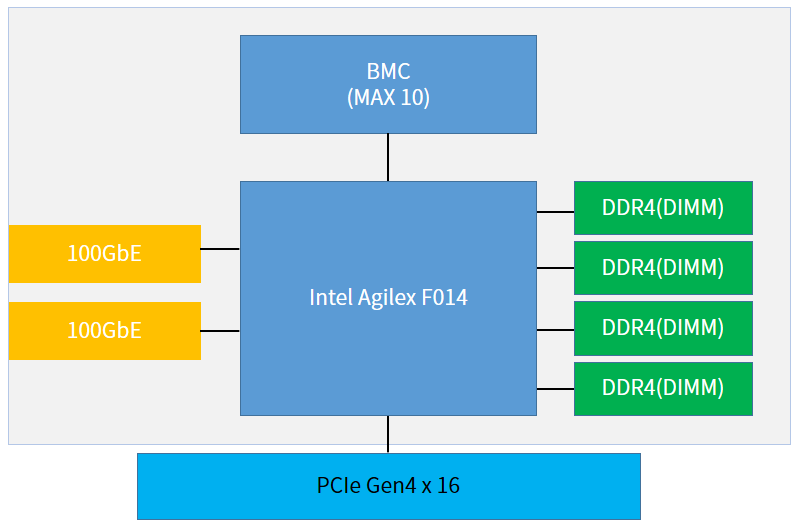 SPECIFICATION
● Standard PCIe card (Full height, 3/4 length, dual slots width)
● PCIe Gen4 x16 interface
COMPONENT
● Intel Agilex F014 FPGA
● 4 DDR4 interfaces
>> DIMM form factor
>> 16GB for each channel, total 64GB
● 2 network interfaces (QSFP28)
>> Support 4x25G NRZ or 2x50G PAM4 100GbE interface
>> Support 4x10G/4x25G ports by breakout cables/panels
POWER

● PCIe slot 12V@75W + external auxiliary 12V@75W power supply
● Passive heat dissipation, suitable for a variety of host environment with different heat dissipation channels, providing high reliability and stability
ON-BOARD MANAGEMENT
● Baseboard Management Controller (BMC) Based on Intel MAX 10 FPGA
>> Temperature and voltage
>> Intelligent Platform Management Interface (IPMI)
● Remotely update Flash and BMC software for onboard FPGA
FPGA MANAGEMENT
● Fast loading of the base version through onboard Flash
● Reconfigure FPGA by dynamically downloading image through PCIe interface
DEVELOPMENT TOOLS
● Support Intel Open FPGA Stack (IOFS) development environment
● Support for the Kubenetes plugin
CUSTOMIZATION
● EmbedWay can provide FPGA programmable accelerator card technical support services
● EmbedWay can provide customers with special customized solutions to help customers speed up the time to market